KwikBet Kenya is a licensed betting platform that has taken the world of gambling by storm. Though punters from all over the world are welcome here, the platform caters especially to the Kenyan market. The platform provides several sports options and jackpot and one can use SpesaLink KwikBet betting tips and predictions to place a bet.
In this article we take a look at how users can place a bet in KwikBet,Using the SpesaLink KwikBet betting tips and prediction .what are the necessary preconditions attached to it. So, without further ado, let's dive right in.
Register first
Registration is a necessary pre-requisite if one is to deposit, let alone bet. The process of doing so is relatively straightforward. Simply visit the homepage, navigate to 'Register' and fill in the details that are required. Once this is done, you will get a confirmation notification where after you can start depositing.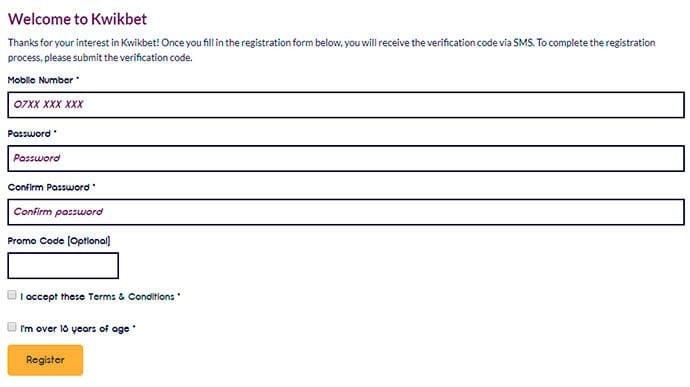 Make a deposit
Once the registration process is completed, users can make a deposit. Yes, the sign up bonus can also be used to play KwikBet but sooner or later it will be necessary to deposit. One can do so by navigating to 'Deposit', choosing one's preferred method, and enter the sum. This can also be done by using M-PESA for Kenyan players.

Place a bet using SpesaLink KwikBet betting tips and predictions
Before you bet in KwikBet, it must be noted that the minimum amount that once can bet with is set at Ksh 50. To start betting, type in 'KWIKBET' and send it to 29028 to receive the sports fixtures and the odds. Keep texting to receive information on additional fixtures and odds or make your way to the homepage to find the game that you want to bet on.

Once you have identified your game with the help of SpesaLink KwikBet betting tip.Send the SMS in this format: GAMEID#PICK#AMOUNT. Send this to 29028 for a single bet. For multiple bet, keep selecting the game id and your pick and insert the amount at the very end. Once your bet is confirmed, a confirmation notification will be sent by KwikBet regarding the same.
For more information Kindly visit KwikBet website.But for SpesaLink KwikBet betting tips you can contact us Via  https://spesalink.com/contact-us.You can also download SpesaLink app by clicking Link.